Khârn-Âges Kickstarter
Khârn-Âges Kickstarter
Here is Khârn-Âges Kickstarter campaign in English; should you wish to pledge, you can do so on this link, thank you!
Ceci est la traduction de la campagne Kickstarter de Khârn-Âges en Anglais, si vous souhaitez découvrir la version française et contribuer, c'est par ici, merci!
KHÂRN-ÂGES is a medieval fantastic skirmish game in which you direct a Spearhead (name given to your miniatures team). These Spearheads are composed of anthropomorphic animals of 54mm (this is an indicative value, many species are larger).
The figures are sold unassembled and unpainted.
It's an ambitious project where you can choose from four different factions from the start. A rules book will detail all phases of the game, as well as equipment, spells and scenarios. A double-sided battle mat completes the game material.
You can discover the universe and follow most heroes in a novel already available in French (it's a good way to start learning!): Khârn-Ages T1: The Embrasement.
In KHÂRN-ÂGES, you can modulate your compositions without changing miniatures! Indeed a same figurine can correspond to several LEVELS of profiles, and you can equip it as you wish, you have the possibility to play it with different characteristics while changing its weapons and its equipment, or to have access to many different spells for magicians. KHÂRN-ÂGES is a scenario game, it is not about exterminating your opponent (even if it's feasible sometimes!), but fulfilling your goals to win.
KHÂRN-ÂGES is a game that only requires a few miniatures to play, so you will not have a huge budget to plan to get started and buy your 500 Krowns of heroes to build your first Spearhead: the cost of recruitment of each mini proposed in this campaign is indicated below each model, it can be modulated by the equipment that will be available in the rulebook.
This campaign offers you to acquire the figurines, the rules, the play mat to fully enjoy your fun experience from the start. The rules are easy to understand and very permissive, but the level of strategy is very high and will seduce the most demanding players. You can discover the fighting engine on our YOUTUBE channel (with English subtitles).
Last but not least, KHÂRN-ÂGES is a 100% French game, the entire project is developed in the north of France, 40 km separate the workshop of creation and production of our paper printer.
Khârns
Khérops
Conquerors and destructive, the Khérops are led with an iron fist by Nagoï-Khan, the supreme emperor whom his three sons would like to see fall from the throne ... They only live for battle and plunder. Led by the priests who infuse them with energy and strength through suffering, they walk inexorably to the throne of King-Khârns at the sound of the drums of war. All who are on their way become enemies.
They are of a brutal and direct force. Supported by the priests and executioners on the battlefield, they draw their determination from the blood of their enemies, but galvanize themselves in combat by mutilating and scarifying themselves; as much to frighten the enemy as to stimulate their violence.
But let it not be mistaken, they are barbaric only in appearance. Disciplined and accustomed to the privations of war, they are of a formidable efficiency and their ability to withstand blows and wounds make them war machines that stop only once their last breath is made.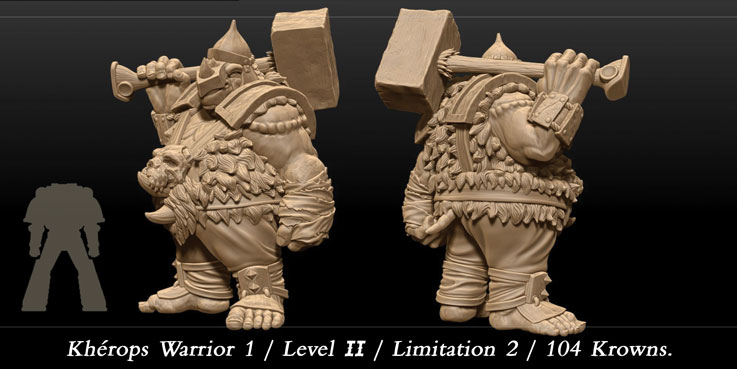 Size 75mm / Base 50mm
Size 75mm / Base 50mm
Size 60mm / Base 50mm
Goûns
A pacifist people and close to the spirits of the nature that surrounds them and feeds them, the Gôuns are trown almost in spite of themselves in the generalized conflict that ignites Safar. Forced to flee the Dogon plains, they will take part in the fighting and will follow Alaric, a young peasant of their blood who will become the Ultimate Warrior to decide the future of the Kingdoms. Shamanism guides their lives and gives them support and protection.
Firmly convinced that everything has a spirit, their shamans use the environment to protect and defend themselves. Mused by an immutable gregarious instinct, number is

is often

their strength. Nevertheless, they count in their ranks the tribal champions of each village who do not have anything to envy enemy warriors; and although few, albino warriors, direct descendants of the late Synkerces are feared by all the combatants endowed with a little reason.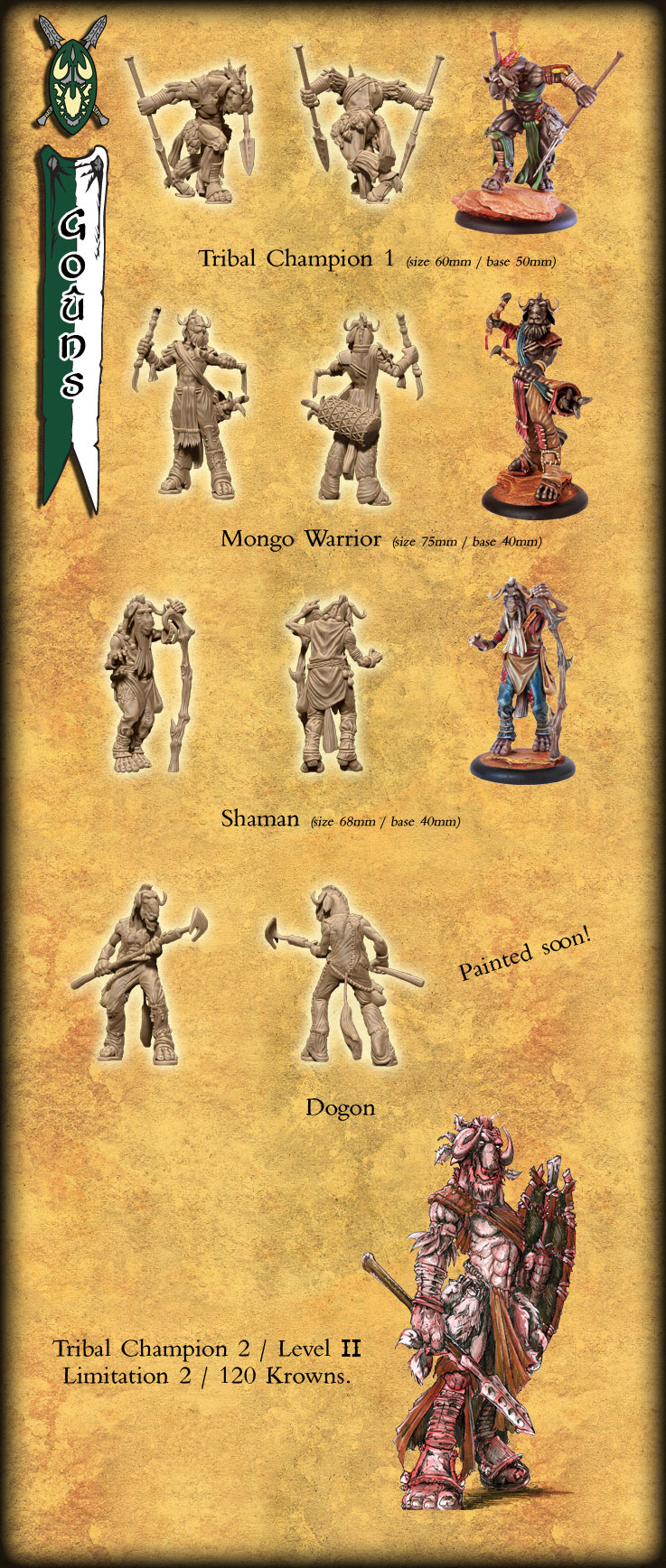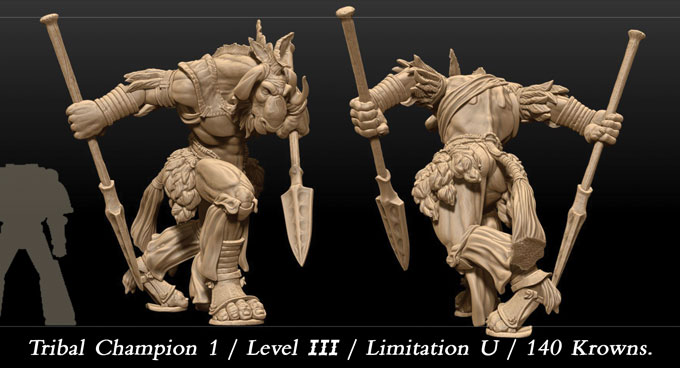 Size 60mm / Base 50mm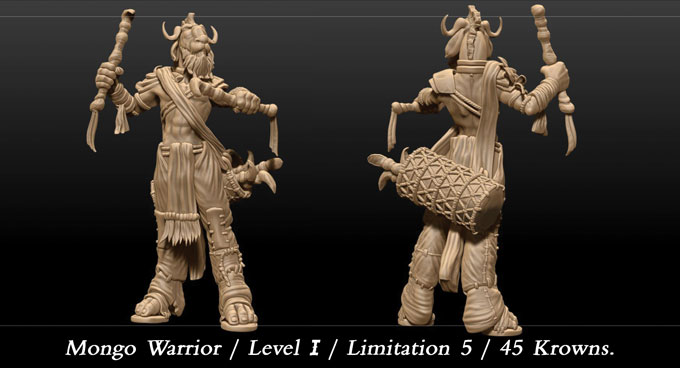 Size 75mm / Base 40mm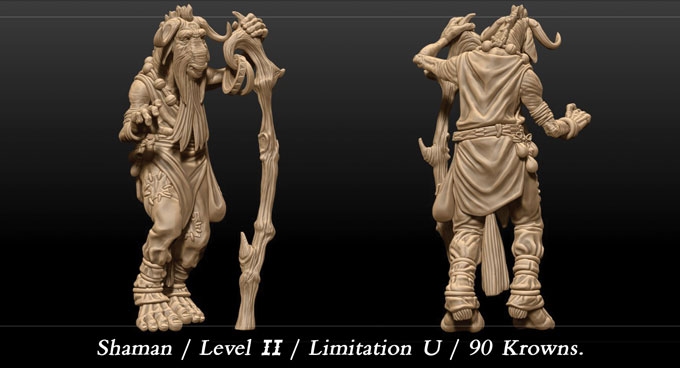 Size 68mm / Base 40mm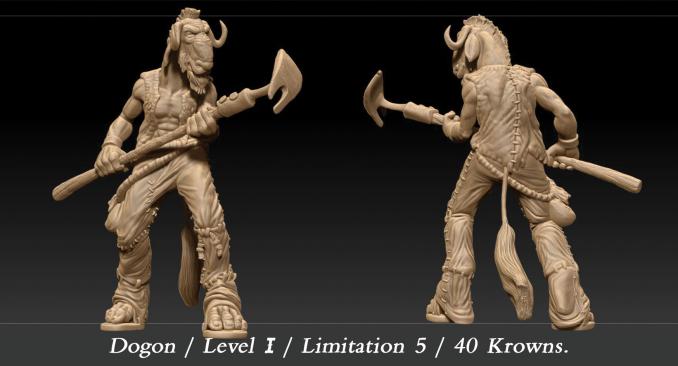 Fangs
A matriarchal and tough nation, the Fang "Lair" is led by the great Nyx, the males are treated like minions until they have proven themselves. All is treachery and perfidy for the sisters who fulfill the will of their Mother. They survived through flouted

alliance and

decreed contracts, but the vision of their leader revealed the future of all known lands and the Fangs have a great role to play.
The magic of the bones allows them to trouble their enemies and raise armies fighting for them. If they have good endurance, the Fangs are not heavy wariors. They compensate for their weak points (power and corpulence) by multiple skills and a proportion of magic that exceeds all other formations. If they remain the most technical faction to play; they are as seductive as they are leathal if not hindered very quickly.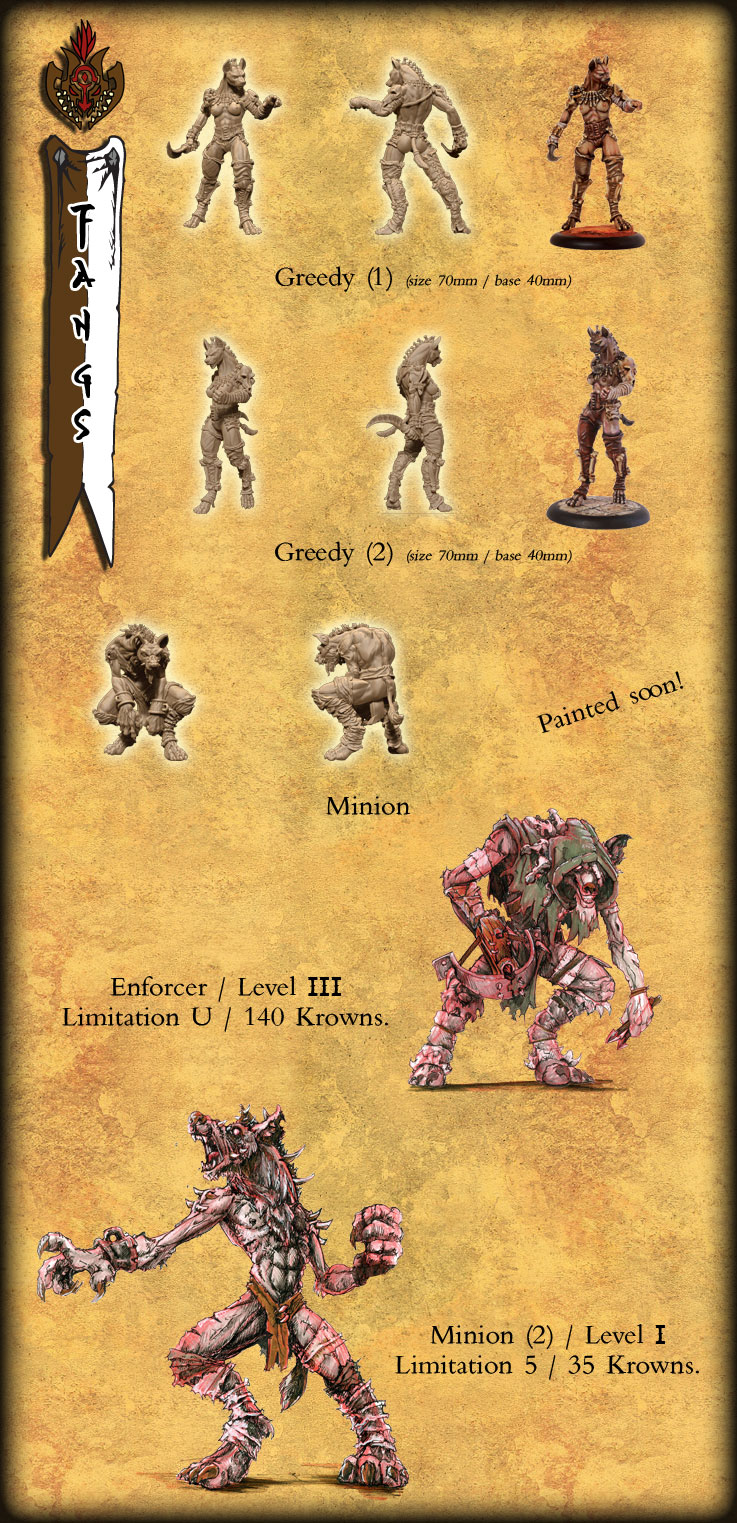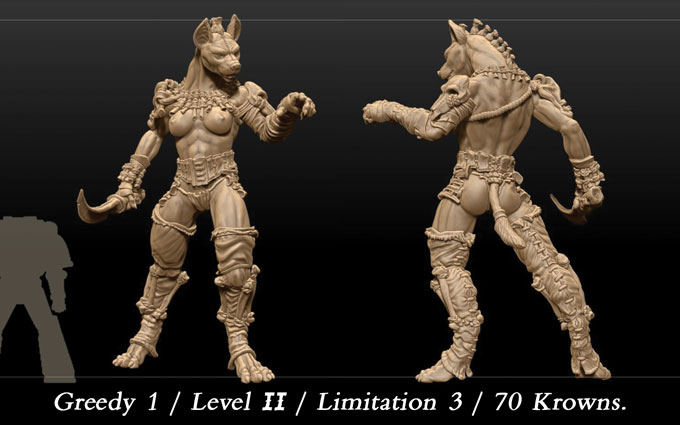 Size 70mm / Base 40mm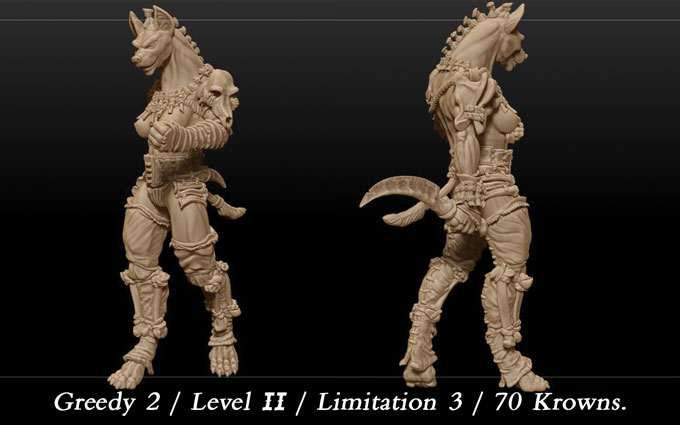 Size 70mm / Base 50mm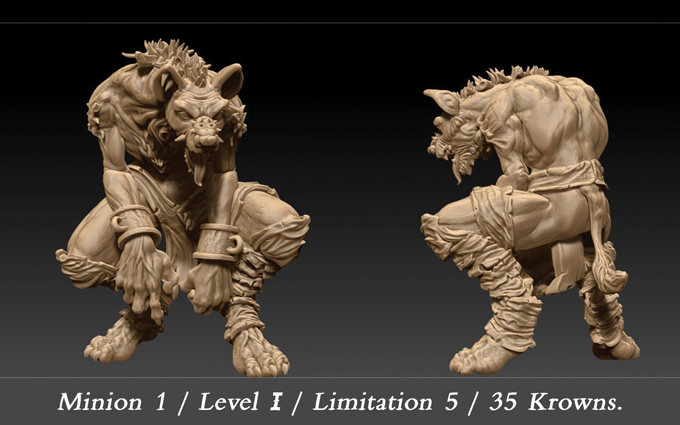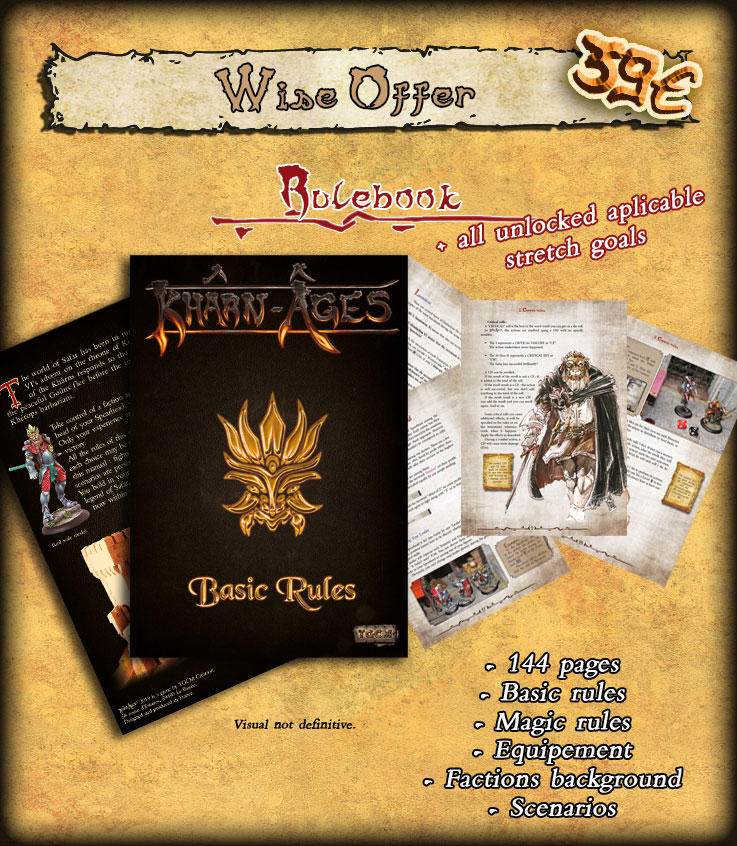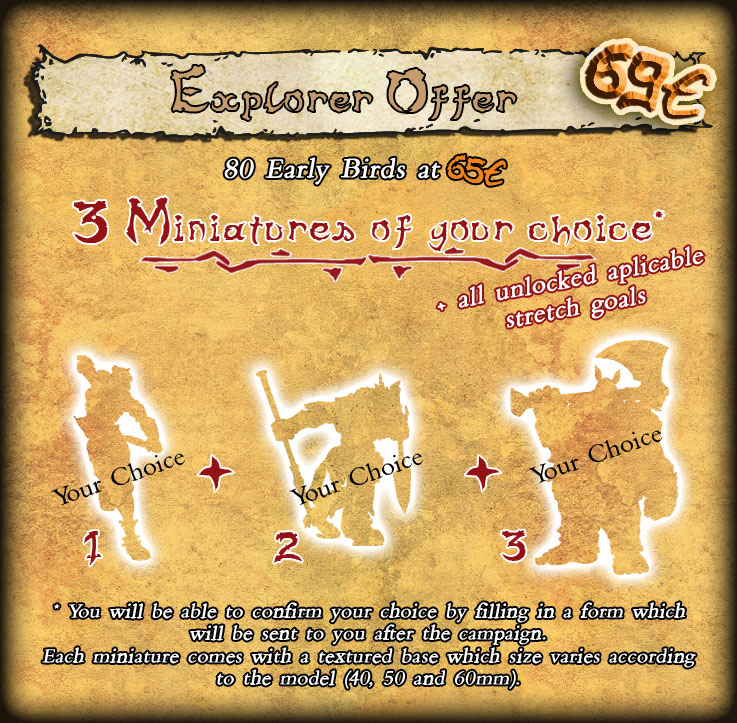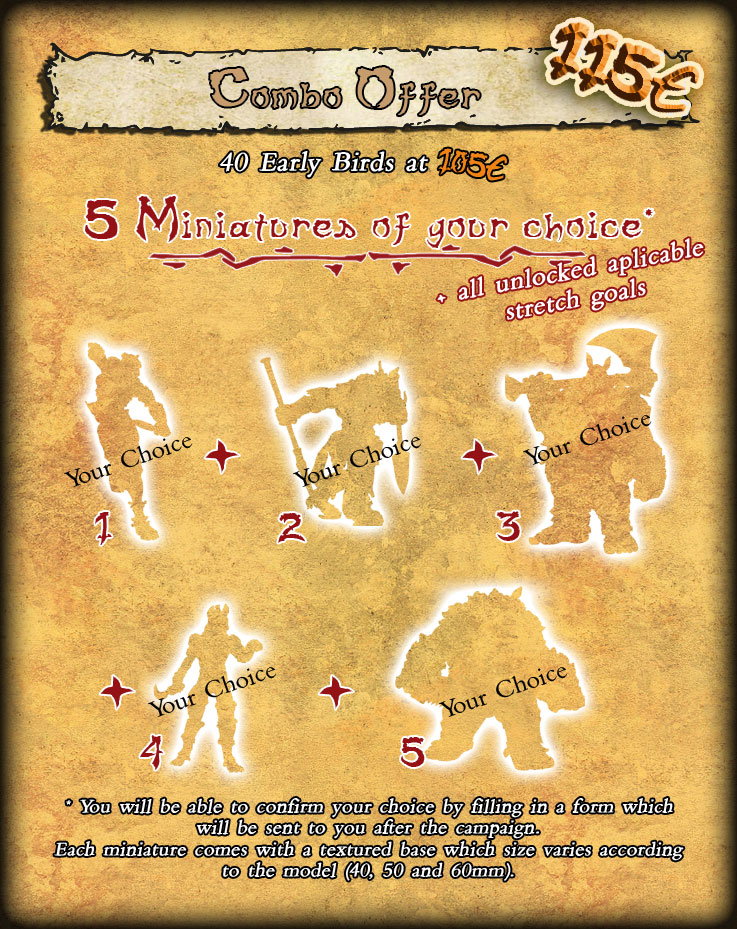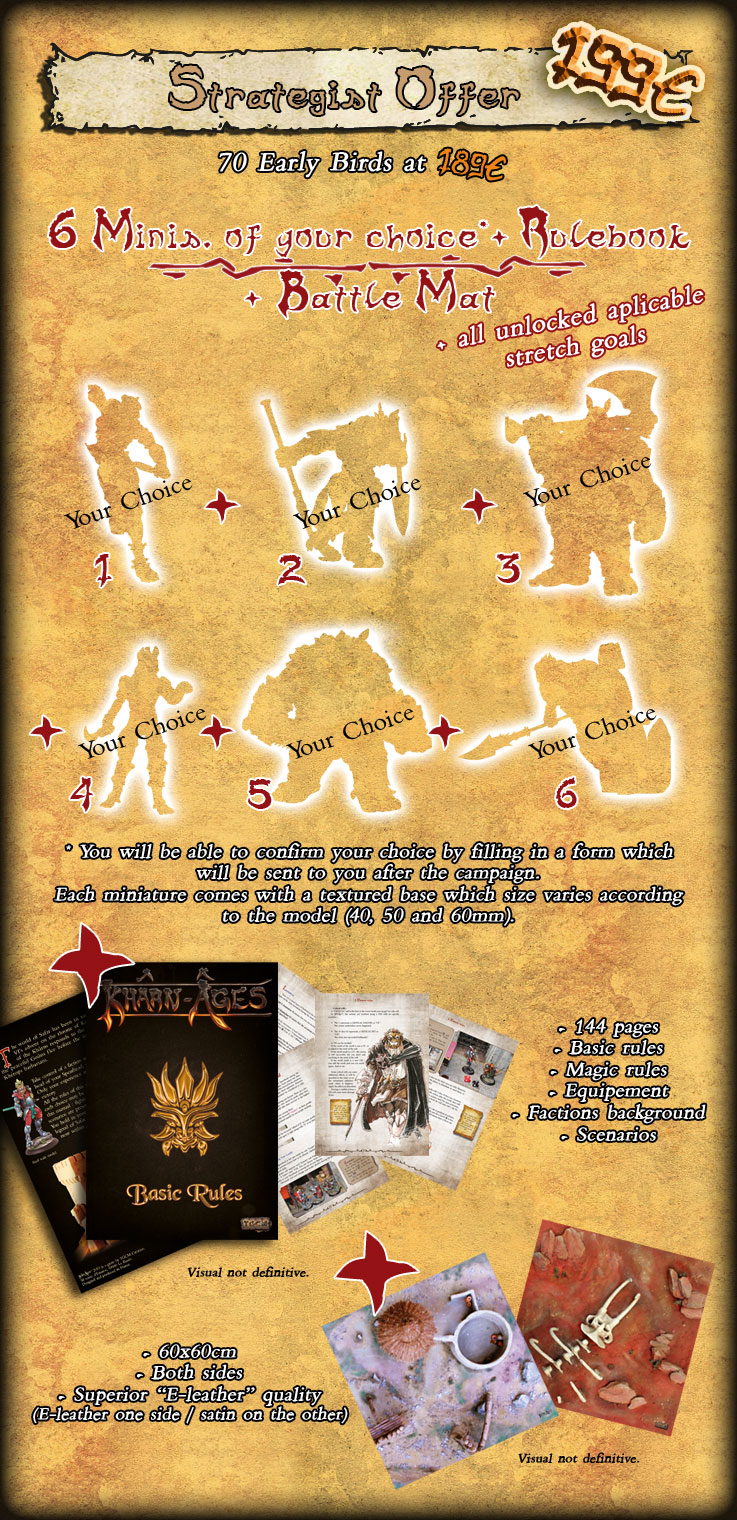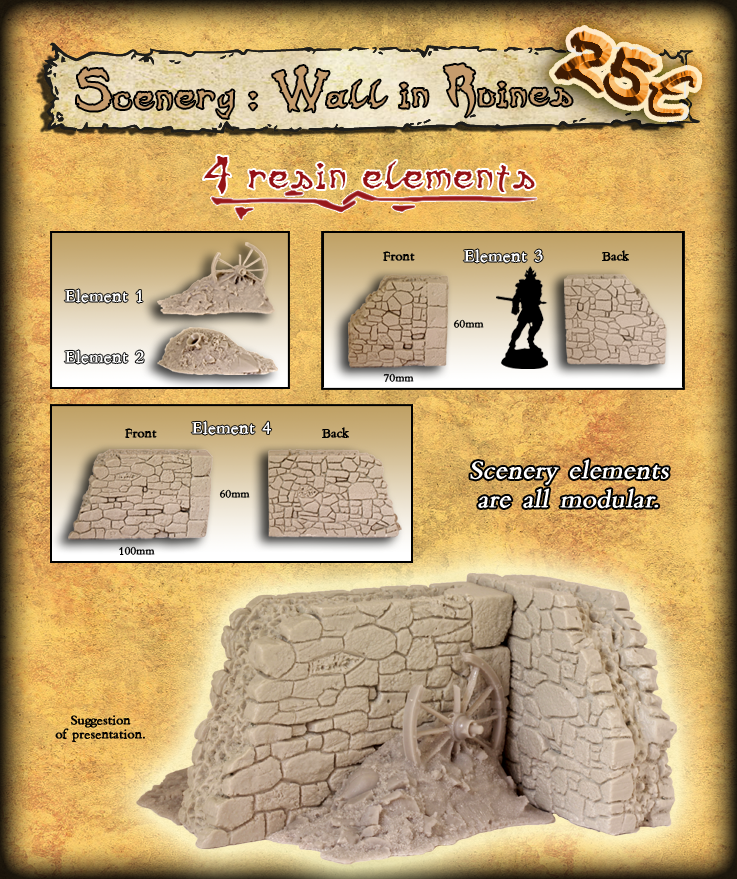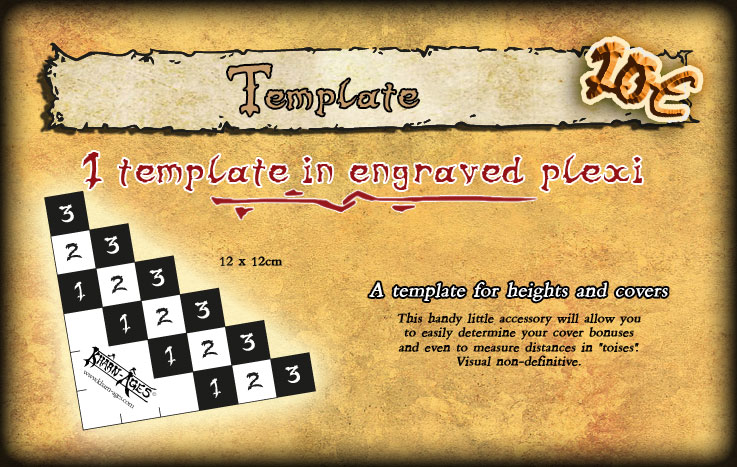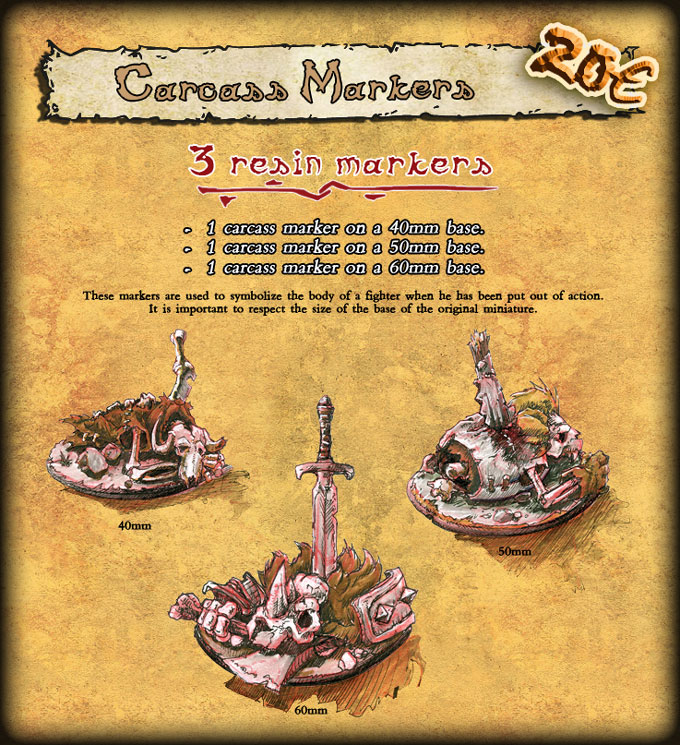 To date, after nearly 3 years of development, we are proud to present most of the miniatures that will be available during this campaign, the others are being modeled.
Rules and profile cards have been tested (by our team and a number of seasoned Briskars players). They are currently finalized and in the process of being formatted.

If we decide to go through a crowdfunding campaign, it's because this project can not succeed without you!
TGCM is a modest company but has always kept its commitments and has created a substantial community around its first game, Briskars. However, the costs of such an adventure are much higher than those that allowed us to launch our first game.
In addition to the design phase, the production and molding of figurines, there are many items related to the creation of a game.
Your contributions will allow the printing of books and profiles and equipment cards, the modeling, the production and packaging of minitures, the control of the production line in our workshop to guarantee you the best quality and the development (we hope you will reach these levels) of many game accessories.
The goal we are hoping to reach may seem important, but it reflects the reality of the costs and charges we face.
Achieving this goal will allow the birth of KHÂRN-ÂGES, not to end our days in the sun!
We are counting on you all to reach it and bring the world of Safar to life...

Share the announcement of this campaign from our Facebook page (by following this link) to unlock the Dark Khârn Warrior profile card that will be offered with the classic khârn Warrior. You can discover the profile in the 5th news of the KS campaign.

Subscribe to the Khârn-Âges Facebook page (following this link) to unlock the Dark Mongo Warrior profile card that will be offered with the classic Mongo Warrior 1.

Subscribe to the TGCM Youtube Channel (following this link) to unlock the Dark Khérops Warrior profile card that will be offered with the classic Khérops Warrior 1.

This last profile of the Black Guild delivered with the Greedy1 will be unlocked as soon as this campaign has reached 200 backers.You can discover the profile in the 3rd news of the KS campaign.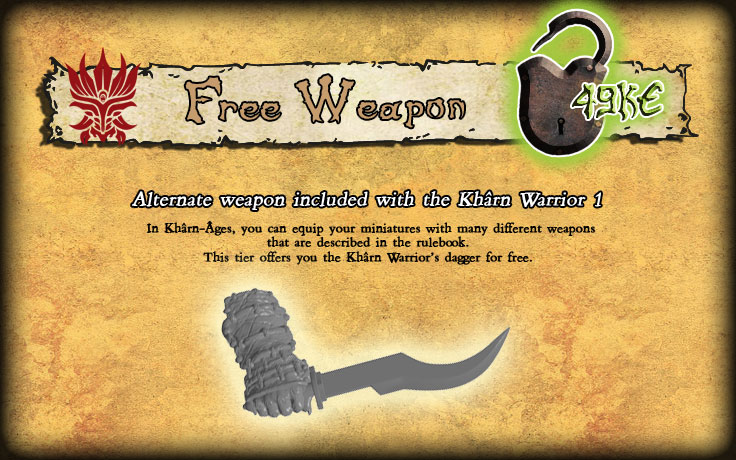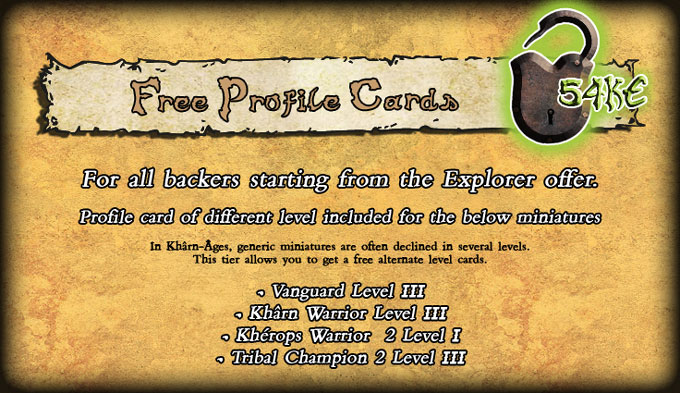 ERRATUM: be assured that the Vanguard card of this tier is a LEVEL III and not II, for some reason, we do not manage to change the image....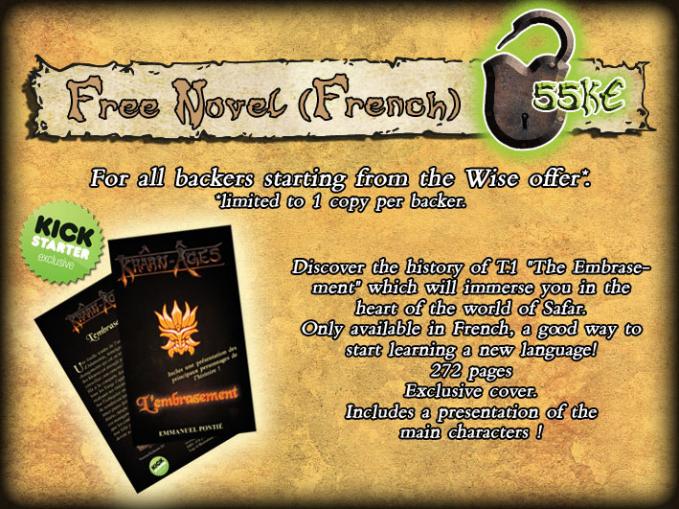 The rates below are for information and subject to change. They will be confirmed and communicated to each backer at the end of the campaign via a form. The delivery of the products will start as soon as possible in order of availability of the products but should be done in August.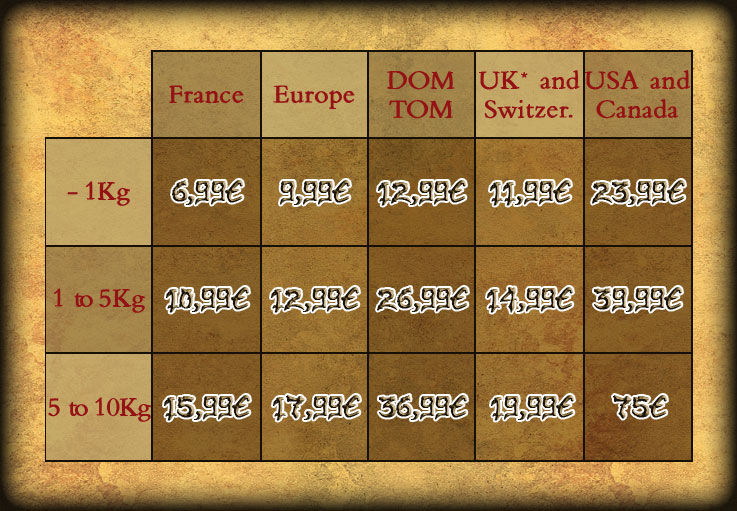 * As we do not yet know where we stand on the BREXIT, it may be that the shipping to the UK will be completely different. We will try to let you know as we hear more.
KHÂRN-ÂGES
is a game that requires very few miniatures to start, the ideal format will lead you to manage 3 to 6 figurines by Spearhead (name given to your team) during a game.
The currency on Safar is the Krown, each character is worth a number of

Krowns

in recruitment cost, a game is usually played in 500 Kr.
Each character has a profile on which a certain number of Action Points can be spent to make it act.
Here are some videos to help you discover the mechanics of the game (subtitled in English):
Risks and Challenges
TGCM Création was founded in 2012, it is a French company that favors eco-local whenever possible. BRISKARS was born the following year and its community slowly grew to reach more than a thousand players and now occupy an important place on the French figurative scene, associations and shops that discovered the game. Since the beginning, we have been the masterminds of all Briskars creative stages: sculpture, molding, production, creation of rules, profiles and publications. We have learned a lot over these 7 years and all of our products are created and manufactured in France. All the feedbacks and all the tests that we were able to complete with Briskars, allow us to present you today KHÂRN-AGES in the best conditions. First and foremost, we want to respect our future players, which is why we expect delivery within a reasonable time: 4 months after the end of this campaign. You do not pledge for a hypothetical delivery in 4 years...
TGCM Creation is a 100% French and human-sized company, it has no other wishes than to live by its passion by making your experience of the game the most pleasant and the most immersive possible. It is going through this kickstarter today because it needs your support on KHÂRN-AGES so that this philosophy can remain ours for a long time.
Delivery risks: We have made the habit of publishing in preorder the books (Campaign Book, Season 2, V2 ...) of Briskars, and know how to ensure in-house preparation of a large volume of orders quickly, post and Chronopost are warned of the peak of activity that will be generated and will facilitate the transfers. Of course, no one is totally immune to the imponderables, but if a grain of sand came to slow down the machine, we will do everything to keep you informed and be as transparent as possible on the evolution of the situation. Our Briskars players and all those who participated in our first campaign: "Ching the Penguins Crusher" can probably testify to the seriousness of our delivery methods and our speed on the after sales service.
Production Risks: TGCM is responsible for its production, having recently switched to a softer and less brittle resin for fine pieces, we will make a point of delivering to you figurines conform to the models presented in these pages. However, in the event of defective parts we invite you to come back to us by email, to find the best solution together.
The only positions that we do not control are the printing of cards and publications, we will maintain close contact with our partners to minimize the risks on thiese sides.